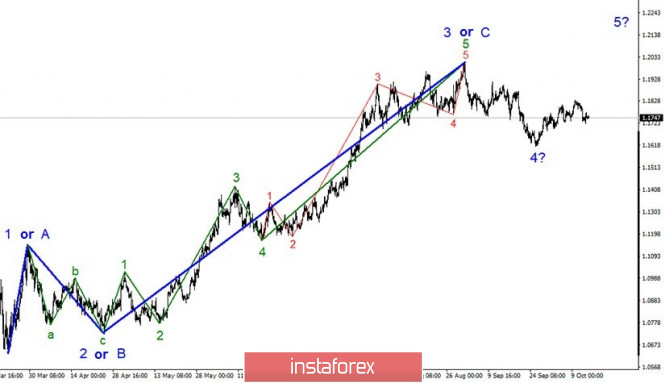 Analysis of EUR/USD on October 15. Americans started a presidential pre-voting three weeks before the Election Day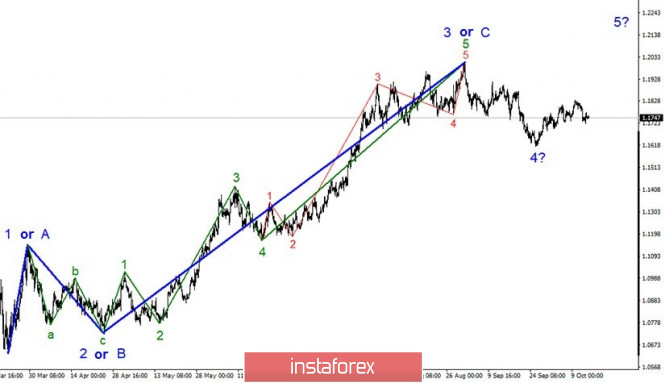 Globally, the wave pattern of the EUR/USD pair still looks quite convincing, and wave 4 is quite complete. Thus, the main option remains to increase quotes from the current levels within the framework of building wave 5 with goals located above the high of the expected wave 3 or C. This means that the indicated pair will increase to at least 20 figures, and most likely even higher. On the other hand, adopting a more complex form of wave 4 is currently not considered.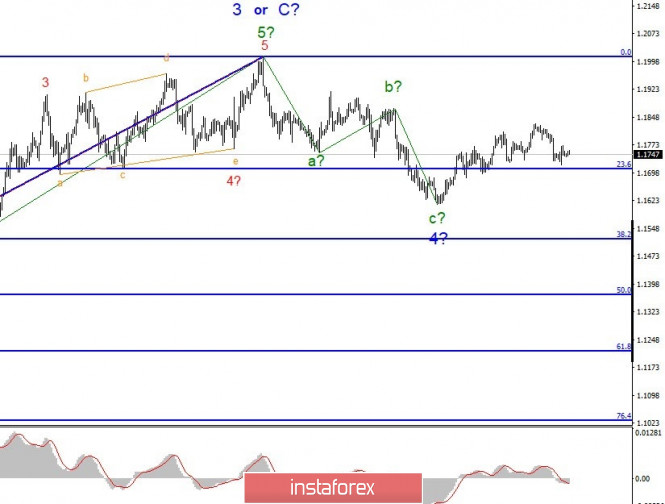 On a smaller time frame, the wave pattern still shows that the supposed wave 4 has taken on a three-wave form and is probably completed. If this is true, the quotes' growth will continue within wave 5. However, there are doubts recently that the quotes' growth is indeed inside the wave 5. It is quite possible that wave 4 becomes more complex and takes the form a-b-c-d-e. This option is supported by the fact that the pair failed to break through the high of wave b at 4. If this assumption is correct, then the current positions will let the quotes to further decline.
In terms of news background, we are filled with news which is why it is extremely difficult to understand which of them influence the mood of the markets and which do not. For example, there is a report today that more than 15 million Americans have already taken part in the so-called pre-election. According to preliminary estimates and according to the statements of the officials of the election commissions, Joe Biden had the majority vote, but the Republicans didn't panic. Donald Trump's representatives believe that there is nothing wrong with the fact that Biden may be ahead initially, since only the overall, final results will matter, which may be completely opposite.
However, it is very hard to say which of the candidates is supported by the dollar itself. The wave pattern is getting confused and it is absolutely unclear now whether a new descending wave will be built as part of 4 or whether the complex wave 5 will continue to build.
Today, economic statistics are not expected either in the US or Europe, but Christine Lagarde's speech tonight might affect trading if she reports something new regarding monetary policy and the EU economy.
General conclusions and recommendations:
The euro/dollar pair has presumably completed the construction of corrective wave 4. However, if the high of wave b at 4 is not broken, a possible complication of the entire wave 4 will be likely. Thus, I still recommend buying this pair with targets located near the calculated level of 1.2012, equating to 0.0% Fibonacci.
The material has been provided by InstaForex Company – www.instaforex.com
Source : https://www.mt5.com/forex_analysis/quickview/261696/