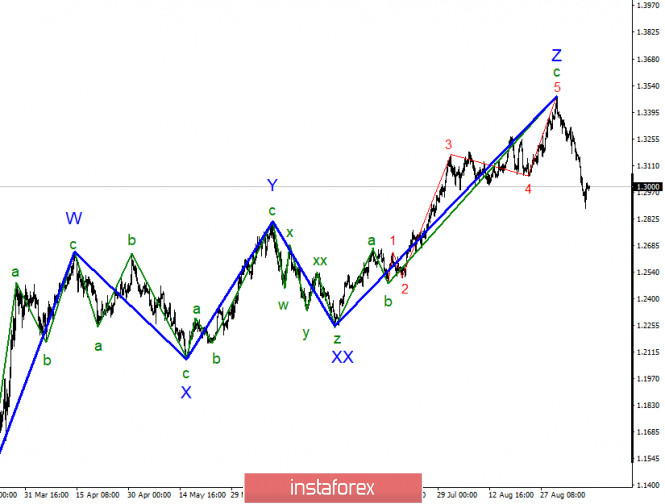 Analysis of GBP/USD on September 10. Boris Johnson's new bill has received widespread criticism which could let the pound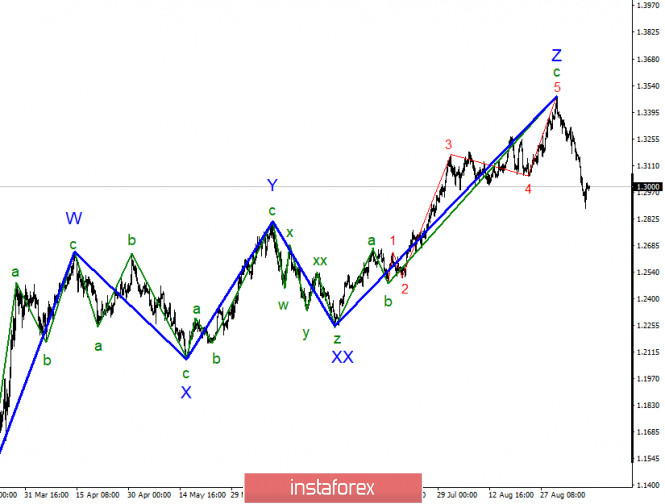 The formation of the wave pattern of the upward trend section is already completed. Thus, the instrument has probably moved on to building a new downward trend section with the first targets located around 25th and 27th figures. However, the pound will really depend on the news background. Solely due to the negative news background from the US, the dollar has dropped significantly against the pound in recent months. But apparently, the opposite process has begun, since the news coming from the UK is disappointing, which leaves the markets with no other option but to sell the pound.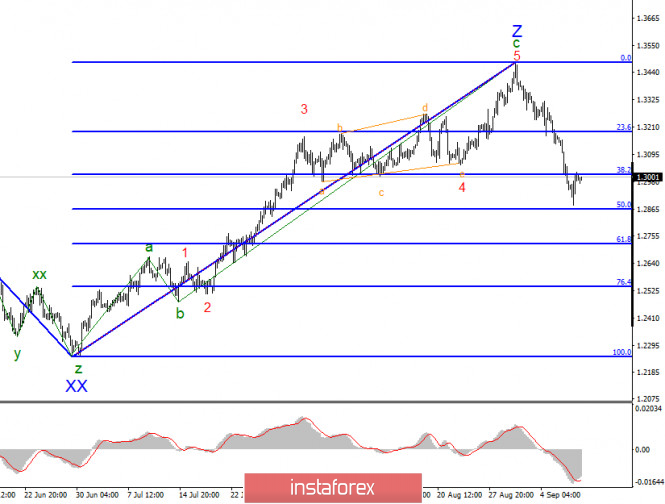 The current wave pattern clearly shows that the entire upward trend section is completed, and the quotes immediately declined. Thus, the presumed construction of a new downward trend section and its wave 1 or A continues. However, it will entirely depend on the news background how strong and extended this wave will turn out, thanks to which such a strong decline in the pound quotes began.
On the other hand, the UK's news background continues to be absolutely negative. In previous reviews, it can be noted that negotiations between the EU and Britain on Brexit are likely to end in failure. However, there is now a new problem – a global one. This can leave an imprint on both the economy of the UK and EU. In particular, it is the famous UK free market bill, which could be passed as early as next week. This bill implies that the regime on the Irish border will not comply with the agreements that were reached at the end of last year with the EU. The new law assumes no additional checks for goods arriving from Northern Ireland and the ability of the British government to change the rules of the customs regime from January 1, if a trade agreement is not signed between Britain and the EU. The law also implies that in cases of conflict with international law, it is British laws that will prevail.
The EU countries, the United States, and even Wales and Scotland have already opposed this bill, since it really violates the principles of international law and may entail negative consequences. At the same time, Belfast and Cardiff believe this law is incompatible with the UK's decentralized government. However, if Boris Johnson's party members all vote for this bill, the opposition will be unable to do anything about this decision. The total number of votes of the Conservatives is quite enough to pass this law on their own.
General conclusions and recommendations:
The pound/dollar pair has presumably completed the construction of the upward wave Z. Thus, I would now recommend selling the instrument with targets around 1.2867 and 1.2720, equivalent to 50.0% and 61.8% Fibonacci, at every MACD signal down.
The material has been provided by InstaForex Company – www.instaforex.com
Source : https://www.mt5.com/forex_analysis/quickview/259087/