Gold prices to hit $4,800. Is it possible?
Ronald Stoferle, the author of "In Gold we trust", estimates that gold will hit $4,800 per ounce within ten years. Gold will rise amid uncertainties in financial markets and financial assistance from states. Central banks continue printing a large amount of unsecured money to support the economy. As a result, government debts are soaring and an oversupply of liquidity may arise.
A jump in gold prices to $4,800 by 2030 sounds unrealistic now. However, to reach this level, gold must advance by 10.1% annually. Thus, it seems quite real, such growth is quite achievable, the analyst believes.
The expert also noted that due to the current situation, people have no confidence in the future. Investors are extremely restrained and cautious; the consumption of goods has decreased. However, news of a successful vaccination will gradually restore the economy and people's confidence.
Moreover, huge liquidity may appear in the market. This may lead to a rapid rise in inflation. This, in turn, will support the rise in the price of gold.
Currently, the yellow metal cannot break the level of $1,900 per ounce. However, experts advise not to rush to sell off your gold.
Experts believe that in 2021, gold will surpass $2,000 per ounce. In their opinion, the governments of some countries will continue to stimulate the economy in 2021, as the situation is still difficult. Central banks are unlikely to raise interest rates, thus boosting gold and depreciating the US dollar.
Today gold is trading at $1872.17.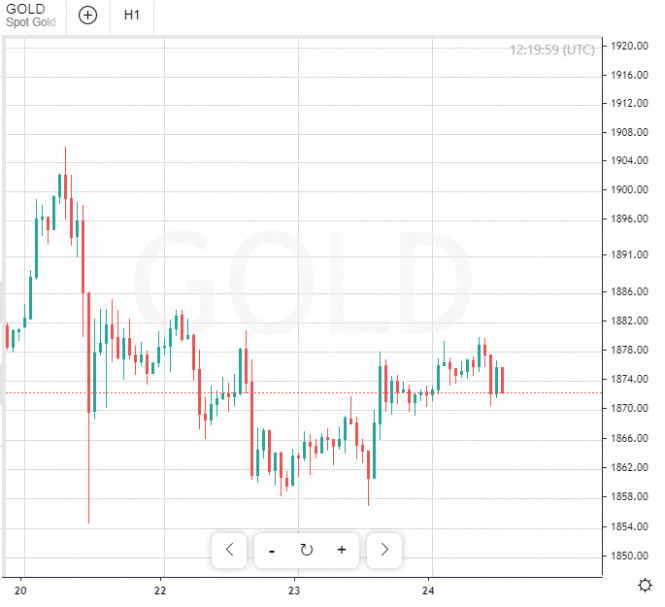 The material has been provided by InstaForex Company – www.instaforex.com
Source : https://www.fx.co/forex_analysis/quickview/200424/