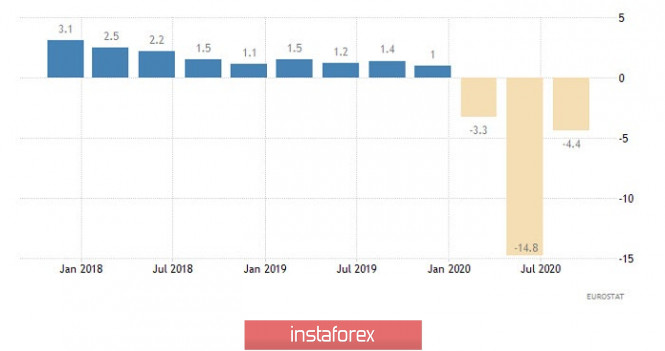 Hot forecast for EUR/USD on 11/16/2020
Complete uncertainty about the results of the US presidential elections still persists, which, in general, does not reflect on the dollar's positions. Nevertheless, the growth of the single European currency, frankly, was limited. And to some extent this might be due to the second estimate of the euro area GDP for the third quarter, which turned out to be slightly worse than the first estimate. If earlier it was assumed that the rate of economic recession slowed down from -14.8% to -4.3%, then now this value has worsened to -4.4%. So the revision of the GDP dynamics could well restrain the strengthening of the euro.
GDP growth rates (Europe):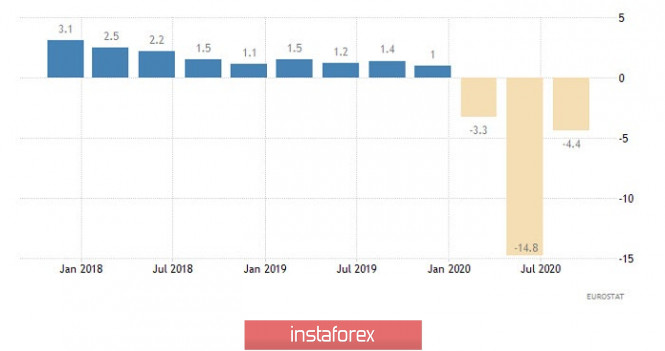 At the same time, US macroeconomic reports have been very good, as the growth rate of producer prices accelerated from 0.4% to 0.5%. But after the publication of inflation data, there were fears that the rise in producer prices could noticeably slow down. However, this did not happen. Consequently, inflation may well resume its growth, which is an extremely positive factor. But even this was not enough for the dollar to strengthen its position. So the political turmoil continues to put pressure on it. Given the fact that the macroeconomic calendar is completely empty today, we can safely assume that in the worst case, we will face stagnation. Most likely, we will observe sluggish strengthening of the single European currency.
Producer prices (United States):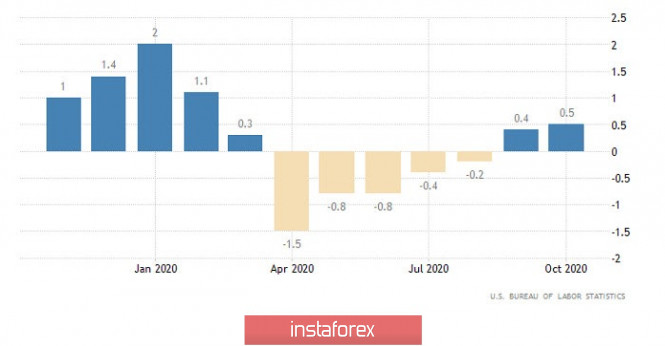 The EURUSD pair at low dynamics, forms an upward move from 1.1745, as a result of which the quote returned to the 1.1850 area, winning back most of the decline from November 9.
Based on the quote's current location, low activity is still taking place in the market, and the quote is trying to stay in the 1.1850 area, which, in theory, could give a chance for a succeeding rise.
Regarding market volatility, things are ambiguous here. The dynamics have almost halved from the average level, and the speculative operations ratio still has a high percentage in the market, which might signal an acceleration in the future.
Looking at the trading chart in general terms (daily period), you can see that the upward movement is still the main one in the market, despite the attempt to recover.
We can assume that keeping the price above 1.1850 will increase buyers' chances of a subsequent upward movement. At the same time, reduced dynamics may lead to a slowdown in the market.
From the point of view of complex indicator analysis, we see that the indicators of technical instruments have a buy signal due to the price movement along the path of 1.1745 —> 1.1850.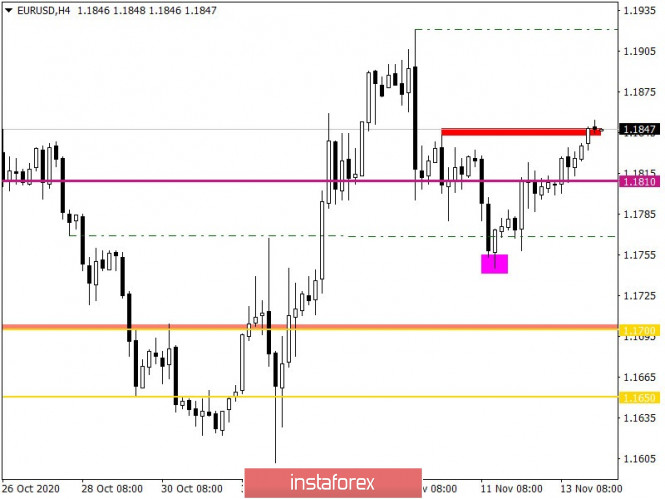 The material has been provided by InstaForex Company – www.instaforex.com
Source : https://www.fx.co/forex_analysis/quickview/263980/