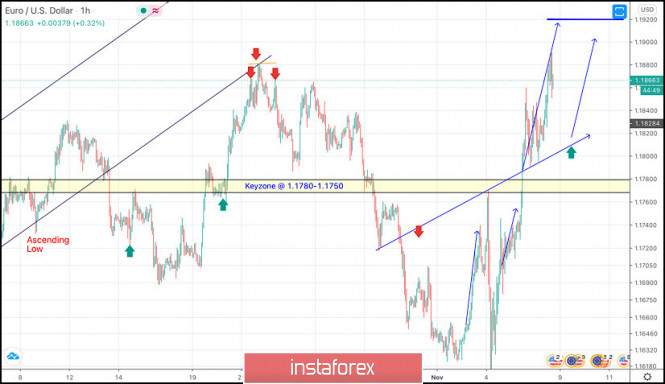 November 6, 2020 : EUR/USD daily technical review and trade recommendations.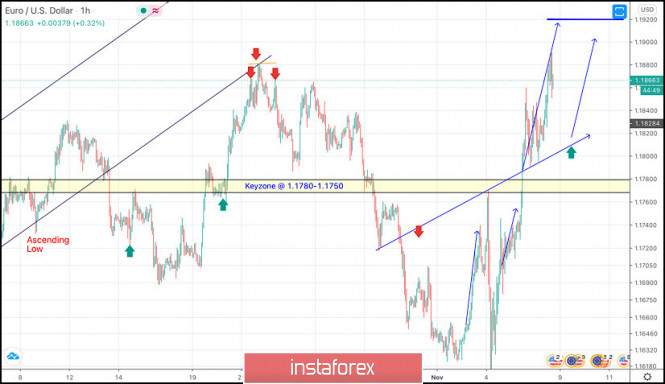 Three weeks ago, temporary breakout above 1.1750 was demonstrated within the depicted ascending channel. This indicated high probability of bullish continuation towards 1.1880. However, downside pressure pushed the EUR/USD pair towards 1.1700 where significant BUYING Pressure Existed. This was followed by another quick upside movement towards 1.1880-1.1900.
The price zone around 1.1880-1.1900 constituted a KEY Price-Zone as it corresponded to the backside of the depicted broken ascending channel where significant bearish pressure and a reversal Head & Shoulders pattern were demonstrated.
Recently, Two opportunities for SELL Entries were offered upon the recent upside movement towards 1.1880-1.1900. All target levels were achieved. EXIT LEVEL was reached around 1.1720.
Early signs of bullish reversal were demonstrated around the current price levels of 1.1600.
The EUR/USD pair is currently demonstrating a strong BUYING Pattern especially after the current upside breakout above the depicted price zone (1.1750-1.1780) was achieved.
The pair is probably targeting the price levels around 1.1920 provided that the breakout above 1.1780 is maintained on the chart.
Trade Recommendations :-
Currently, the price zone of 1.1800-1.1820 stands as a significant SUPPORT-Zone to be watched upon any upcoming downside pullback for a valid BUY Position. Exit level should be placed below 1.1740.
The material has been provided by InstaForex Company – www.instaforex.com
Source : https://www.fx.co/forex_analysis/quickview/194404/