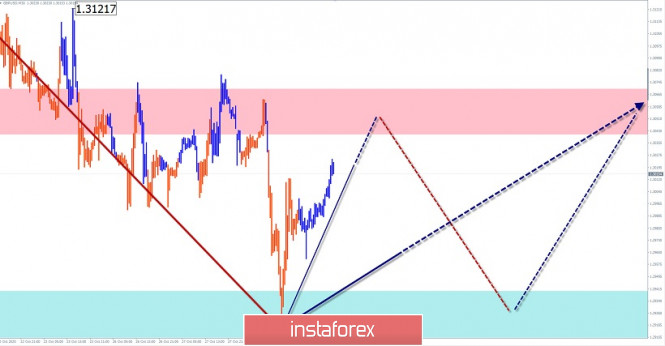 Simplified wave analysis and forecast for GBP/USD, USD/JPY, and EUR/JPY on October 29
GBP/USD
Analysis:
Since October 21, the rate of movement of the British pound sterling is set by a downward wave. It corrects the previous bullish trend wave. The price has reached the upper limit of the preliminary target zone. The upward movement that started yesterday has a reversal potential.
Forecast:
Today, the pair's price is expected to move in the side corridor between the nearest counter zones. After attempts to put pressure on the resistance zone, you can expect a change of course and a repeated decline in the support area.
Potential reversal zones
Resistance:
– 1.3040/1.3070
Support:
– 1.2940/1.2910
Recommendations: the
British pound will be interesting for trading today only for intraday supporters. It is recommended to make deals with a reduced lot, according to the expected sequence.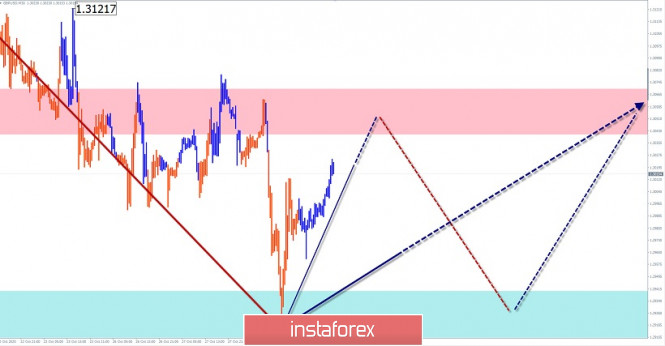 USD/JPY
Analysis:
The active depreciation of the Japanese yen in the main pair in recent weeks exceeded the correction level in the calculated upward wave. Thus, the updated markup shows an incomplete bearish wave from October 7. In its framework, an incorrect correction is formed from the 21st day. It lacks the final part.
Forecast:
The probable range of price movement today is limited by counter zones. At the European session, there may be repeated pressure on the support zone. The active growth phase of the exchange rate can be expected by the end of the day or tomorrow.
Potential reversal zones
Resistance:
– 104.80/105.10
Support:
– 104.20/103.90
Recommendations:
In the conditions of the upcoming flat, trading the yen may be risky. It is safer to wait for the end of the price rise and look for sell signals at the end of it.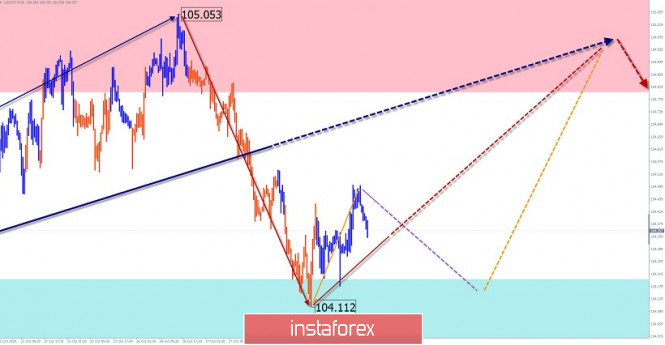 EUR/JPY
Analysis:
The incomplete bearish wave on the chart of the cross of the Japanese yen to the euro counts down from August 13. Its last section on the main course started on October 9. The structure shows a clear zigzag. Now the final part is being formed.
Forecast:
In the next trading sessions, you can expect a continuation of the bearish rate. In the European session, a short-term price rise is possible, not above the resistance zone. Calculated support runs along the upper border of the preliminary target zone.
Potential reversal zones
Resistance:
– 123.00/123.30
Support:
– 121.90/121.60
Recommendations:
There are no conditions for purchases on the pair's market today. In the area of resistance, it is recommended to track the reversal for selling the instrument.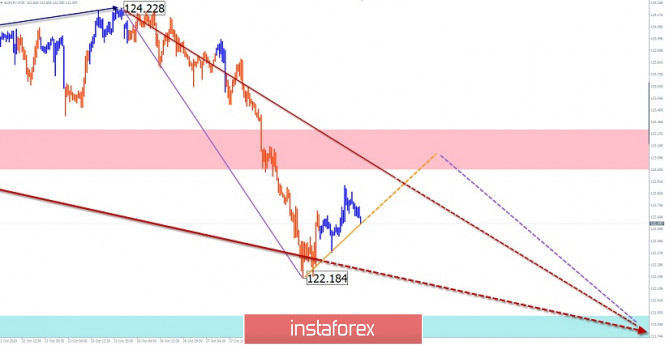 Explanation: In the simplified wave analysis (UVA), waves consist of 3 parts (A-B-C). The last incomplete wave is analyzed. The solid background of the arrows shows the formed structure, and the dotted background shows the expected movements.
Note: The wave algorithm does not take into account the duration of the instrument's movements in time!
The material has been provided by InstaForex Company – www.instaforex.com
Source : https://www.fx.co/forex_analysis/quickview/262755/