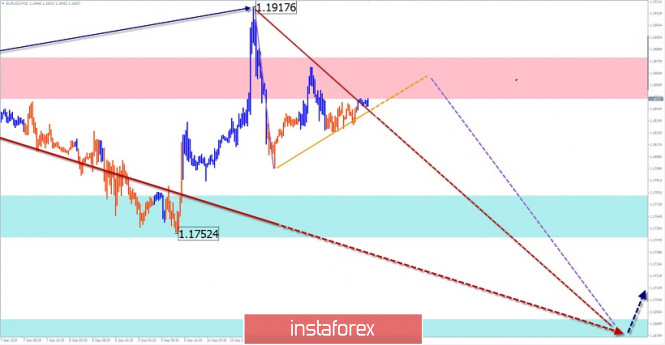 Simplified wave analysis and forecast for GBP/USD, USD/JPY, and USD/CHF on September 15
GBP/USD
Analysis:
The direction of the trend of the British pound since March indicates "north" of the price chart. Judging by the wave level, this is a long-term trend. Since the end of July, the price has formed a counter-corrective stretched plane. The structure of this wave looks complete. There are no signals of a course change on the chart yet.
Forecast:
The upward movement is expected to end today. Further, within the resistance zone, a reversal and a return to the downward rate are expected. If the lower limit of the nearest support breaks, the decline may continue to the next zone.
Potential reversal zones
Resistance:
– 1.2880/1.2910
Support:
– 1.2770/1.2740
– 1.2640/1.2610
Recommendations:
Today, there are no conditions for buying the pound. For selling the instrument, it is recommended to track emerging signals. It is worth considering the limited potential of the current bearish wave.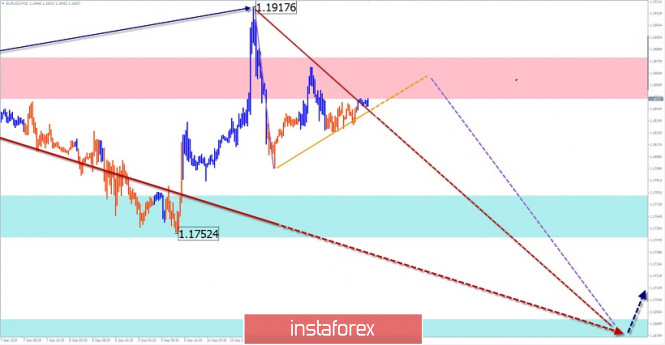 USD/JPY
Analysis:
The quotes of the Japanese yen in the main pair over the past six months have established a downward trend. Analysis of the structure shows that the wave is not complete. Its last part is ascending and has been reporting since August 28. In the last 2 weeks, the price rolls down, forming the middle part (B).
Forecast:
In the next 24 hours, the price of the instrument is expected to move in the side corridor between the nearest oncoming zones. At the European session, pressure on the support zone is possible. The active growth phase is more likely at the end of the day.
Potential reversal zones
Resistance:
– 106.20/106.50
Support:
– 105.50/105.20
Recommendations:
Today, trading on the yen market is only possible within the intra-session style. Purchases of the tool remain the priority.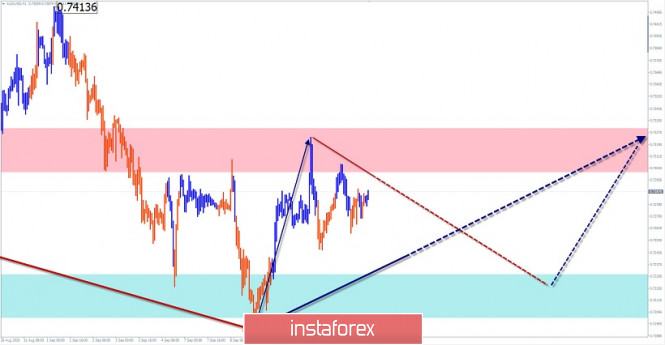 USD/CHF
Analysis:
The dominant trend since March moves the quotes of the Swiss franc down. The price reached strong support. In the last 2 months, the price has been mainly moving in a sideways price corridor, forming a horizontal correction of a complex shape. The wave is not complete.
Forecast:
In the next trading sessions, the end of the price move down, a reversal, and the beginning of price growth are expected. The range of the daily course is limited by the nearest oncoming zones. Then, after the ascent is completed, you can wait for a second decline.
Potential reversal zones
Resistance:
– 0.9120/0.9150
Support:
– 0.9050/0.9020
Recommendations:
Trading on the franc market today is possible only within the intraday with a reduced lot. The pair's purchases are more promising.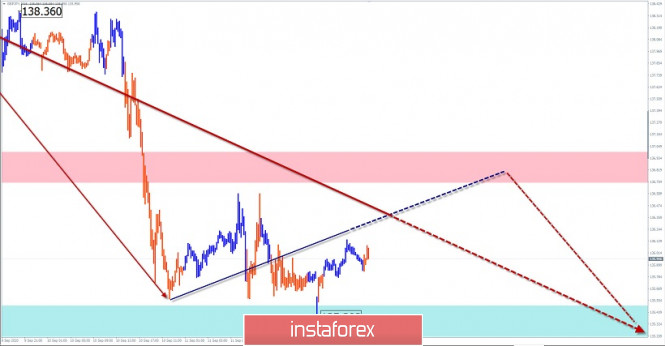 Explanation: In the simplified wave analysis (UVA), waves consist of 3 parts (A-B-C). The last incomplete wave is analyzed. The solid background of the arrows shows the formed structure, and the dotted one shows the expected movements.
Note: The wave algorithm does not take into account the duration of the instrument's movements in time!
The material has been provided by InstaForex Company – www.instaforex.com
Source : https://www.mt5.com/forex_analysis/quickview/259363/