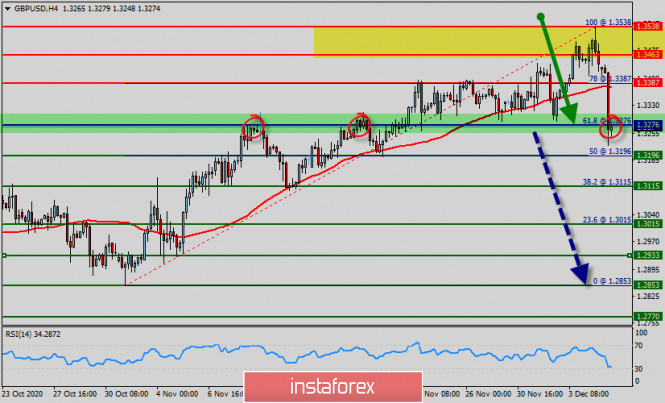 Technical analysis of GBP/USD for December 07, 2020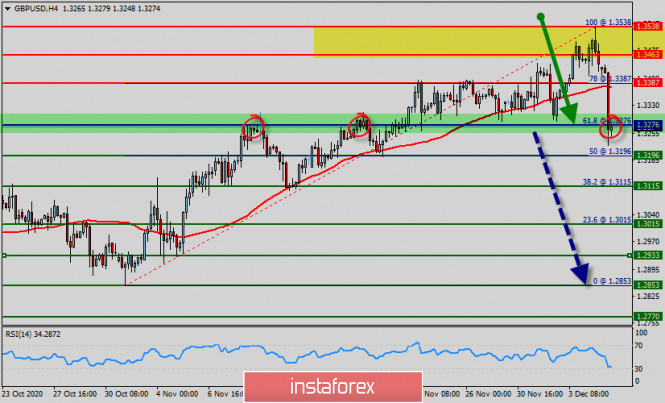 Overview :
The GBP/USD pair has tumbled down, sending momentum on the four-hour chart to negative territory.
The GBP/USD pair fell from the level of 1.3538 to bottom at 1.3260 this morning. Today, the GBP/USD pair has faced strong support at the level of 1.3196. The weekly pivot point has already set at the point of 1.3276.
The British pound sterling continues to trade downtrend from market's opening.
Price action is not making any new lows, leading to a consolidation. The support level near 1.3276 is holding up for the moment.
However, if price action succeeds near this support, then we could expect to see some strong declines.
On the other hand, the fall was so sharp that it also pushed the RSI (Relative Strength Index to 30) – on the verge of oversold conditions.
So, the strong resistance has already faced at the level of 1.3387 and the pair is likely to try to approach it in order to test it again and form a double top.
Hence, the GBP/USD pair is continuing to trade in a bearish trend from the new support level of 1.3276; to form a bearish channel.
According to the previous events, we expect the pair to move between 1.3387 and 1.3196. Also, it should be noted major resistance is seen at 1.3538, while immediate resistance is found at 1.3387.
Then, we may anticipate potential testing of 1.3387 to take place soon. For the moment, the consolidation is taking place between the trendline resistance and the horizontal support.
Moreover, if the pair fails in passing through the level of 1.3387, the market will indicate a bearisg opportunity below the level of 1.3387.
A breakout of that target will move the pair further downwards to 1.3196.
Sell orders are recommended below the area of 1.3387 – 1.3300 with the first target at the level of 1.3196; and continue towards 1.3115.
If the GBP/USD pair succeeds to break out through the support level of 1.3115; the market will decline further to the level of 1.2853 so as to test the weekly double bottom.
Nevertheless, stop loss should always be taken into account, accordingly, it will be of beneficial to set the stop loss above the last bullish wave at the level of 1.3540.
The material has been provided by InstaForex Company – www.instaforex.com
Source : https://www.fx.co/forex_analysis/quickview/198053/