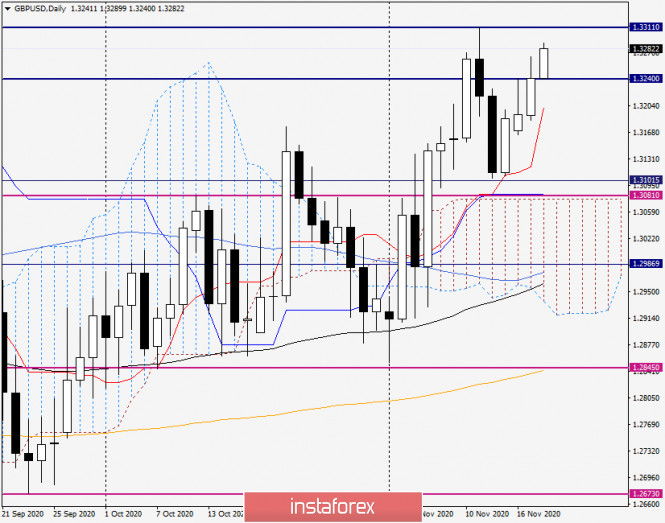 Technical analysis of GBP/USD on November 18, 2020
Hello, dear traders!
Despite the lack of progress in the trade talks between the UK and the European Union, the pound sterling strengthened against the US dollar yesterday. In particular, British Prime Minister Boris Johnson warned that there was too little time left to make a deal with the EU. Johnson said his country wanted to conclude an agreement with the European Union, but not to the detriment of its sovereignty, border laws, and fishing rules. Thus, the British Prime Minister is already prepared for a no-deal Brexit. Given the British rhetoric on the issue, this scenario is likely to unfold. I believe that such market participants are ready for such an outcome. Nevertheless, sharp and strong fluctuations of the pound cannot be ruled out. Therefore, trading could be risky enough.
At the start of the trading day, the UK presented its consumer prices report. The index turned out to be better than expected. On a monthly basis, consumer prices showed zero growth (outlook – minus 0.1%), and 0.7% year-on-year (outlook – 0.6%). This data provided some support for the pound, which was strengthening against the US dollar at that moment.
Daily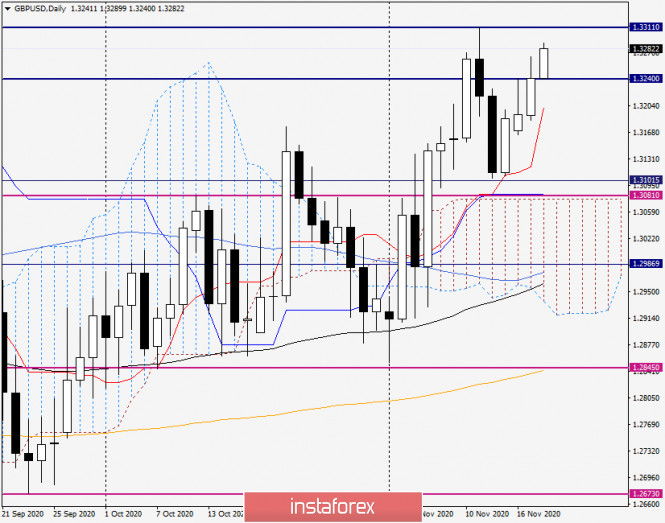 Yesterday's attempt to break through the 1.3240 mark was unsuccessful. The pair reached the level of 1.3271, but rebounded and closed at 1.3241. Currently, GBP/USD is already trading above yesterday's highs, near 1.3280, and may well continue to rise. If so, the nearest bullish target will be a strong resistance zone of 1.3300-1.3311. I assume that if the price closes above 1.3311 (high as of November 11), this will indicate that the pair will extend its upward movement. If the market sentiment changes, a bearish pattern is formed during the day, and the closing level will be below 1.3200, the trend will be downward.
H1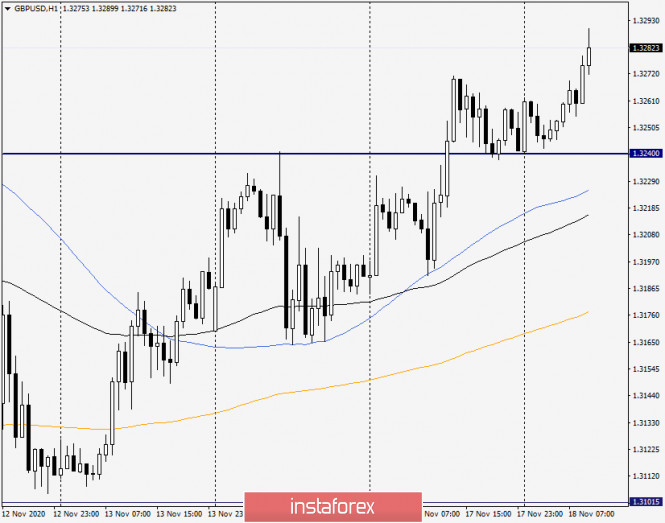 As for the H1 chart, the pair is set to extend its upward trend. Yet, it is unclear where the price will go eventually. Given a weaker US dollar and successful results on a vaccine against COVID-19, the bullish trend will likely go on. Therefore, one should consider opening long positions near the resistance levels after short-time pullbacks to the price area of 1.3260-1.3245. If bearish Japanese candlesticks are formed in the region of 1.3300-1.3311 on the H4 and H1 charts, long positions can be considered near 1.3250. In this case, targets will be seen in the 1.3300-1.3320 area. At the moment, the future direction of GBP/USD is unclear. Therefore, both options can be considered. Nevertheless, long positions after minor corrective pullbacks seem to be the most relevant.
Good luck!
The material has been provided by InstaForex Company – www.instaforex.com
Source : https://www.fx.co/forex_analysis/quickview/264239/