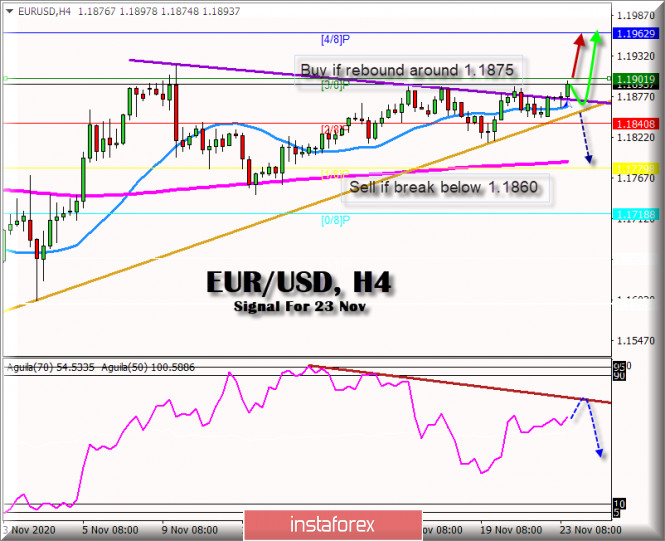 Trading Signal for EUR/USD for November 23 – 24, 2020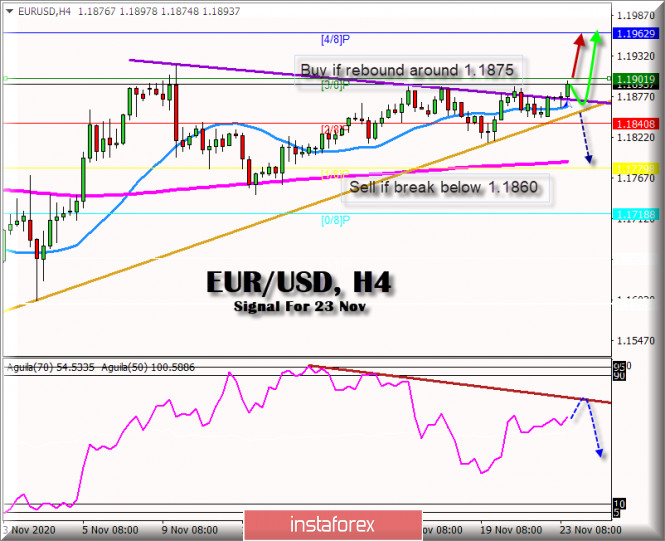 In the early American session, the EUR/USD pair this morning is trading near the resistance of 1.1901 (3/8 of murray), there is still downward pressure below this level.
The weakness of the US dollar is giving a boost to EUR/USD, given that the dollar index has broken its low of 92.15 and with support close to 91.79, which could offer an upward momentum to the currency pair up to resistance levels of 1.1962 ( 4/8 of murray).
Given that the pair on the 4-hour chart has bounced above the 21-day EMA (pressure line) and remains above the 4-hour bullish channel, it is highly likely that it will reach the resistance level of 1.1962 (4/8 of murray).
It could happen that the euro could return to the support level of 1.1865 to gain upward momentum at this level, we must also wait for a consolidation, and buy this pair again with targets at 1.1900 and 1.1962.
On the other hand, if the pair breaks the 21-day EMA and the downtrend channel (yellow color) could start a new bearish cycle of the pair with targets at 1.1788 (EMA 200).
Our recommendation is that you buy the pair, only if it remains above 1.1860, with targets at 1.1962. Below this level, just try to sell.
Market sentiment is showing an increase in investors who are selling this pair with 73% which also favors our bullish strategy in the short term with targets of 1.20.
The Eagle indicator is under bearish divergence, after strong bullish momentum, it signals that an imminent correction could occur for the next few days.
——————————————————————————————————————————————–
Trading tip for EUR/USD for November 23-24
Buy above 1.1901 (3/8 murray) with take profit at 1.1962 and stop loss below 1.1870
Sell if the pair breaks below 1.1860 with take profit at 1.1779 (1/8 murray) and stop loss above 1.1901.
Buy if the pair rebound around EMA 21 at 1.1870 with take profit at 1.1901 and 1.1962 and stop loss below 1.1835.
The material has been provided by InstaForex Company – www.instaforex.com
Source : https://www.fx.co/forex_analysis/quickview/196352/