US dollar is unlike to rise as long as the market believes in new economic incentives in the United States
The negotiations regarding the new so-called coronavirus stimuli between N. Pelosi, Speaker of the US House of Representatives and Finance Minister, S. Mnuchin reached a dead end last Friday. However, this does not scare investors, since they are almost sure that whoever wins the elections will still be forced to implement these measures.
Earlier, the markets reacted violently to the issue of possible new stimulus measures, which Fed's head, J. Powell, actively supported. Last week's result clearly showed that market participants have already decided and believe that support measures will be implemented in any case.
However, the disagreement between Pelosi and Mnuchin reached a dead end, since no one wanted to compromise before the US presidential elections, as they feared being humiliated in front of their loyal supporters.
Investors are showing steady optimism, given such a stable mood and generally positive expectations that the corporate reporting of American companies for the third quarter should be quite good. However, it negatively affects the exchange rate of the US currency. It can be recalled that the expansion of measures to support the economy increases the dollar supply in the financial system, leading it to a kind of redundancy, which, of course, is a strong factor in the depreciation of the exchange rate against other currencies – the supply of which in financial systems remains significantly lower. Based on this, we believe that it will remain under pressure and continue to decline smoothly this week.
This week, we will pay attention to the publication of important economic data. These are the values of consumer inflation in Germany, US and in China, the volumes of exports, imports and the trade balance in China, the figures for the volume of industrial production in the eurozone, and industrial inflation in America. In addition, we will also have the US data on the number of applications for unemployment benefits for the last week and a large package of economic data from the Fed's Bank of Philadelphia.
Forecast of the day:
The EUR/USD pair is trading below the level of 1.1830 and may correct down to 1.1800 before further rising to 1.1885. It is also likely to move to this level, if it rises above 1.1830.
The AUD/USD also reached a resistance level at 0.7245, breaking through which could lead to a further rise in price to 0.7320. In turn, it is also possible for a corrective local pullback down to 0.7200, after which the pair will likely reverse upwards.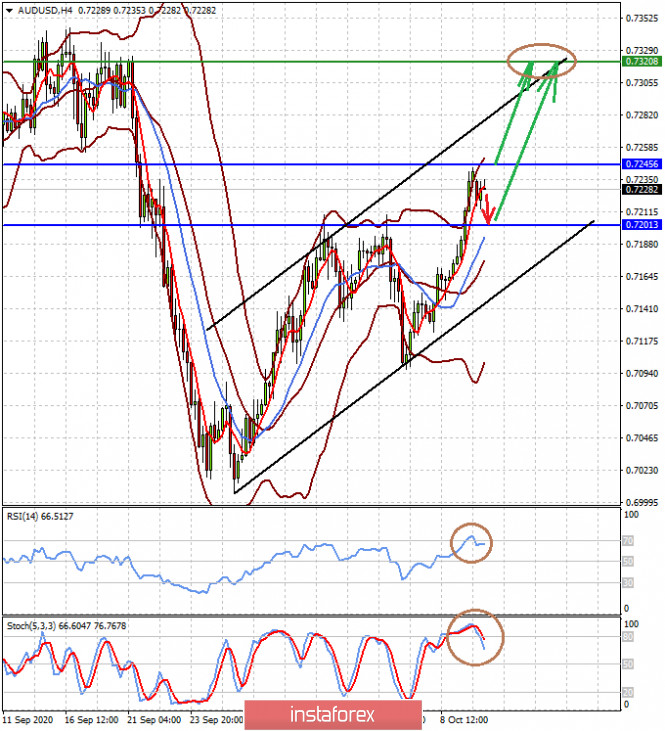 The material has been provided by InstaForex Company – www.instaforex.com
Source : https://www.mt5.com/forex_analysis/quickview/261324/