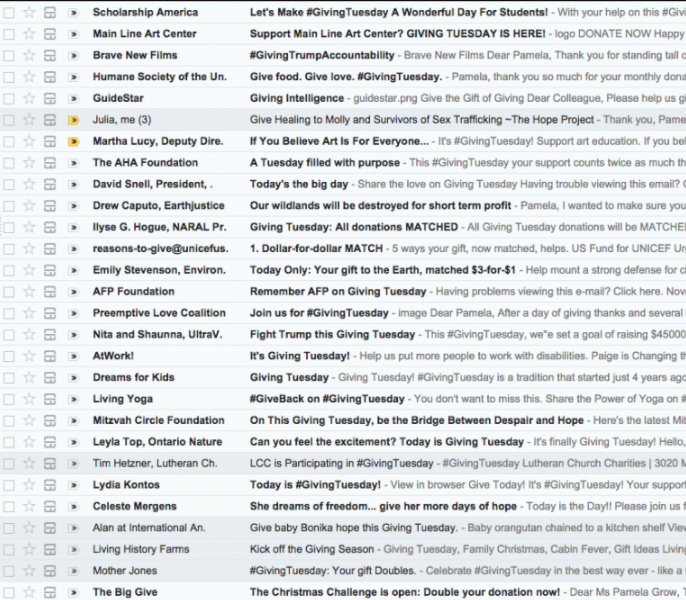 It's that time of year again.
The time when GivingTuesday once again rears its head and my inbox looks like this once more.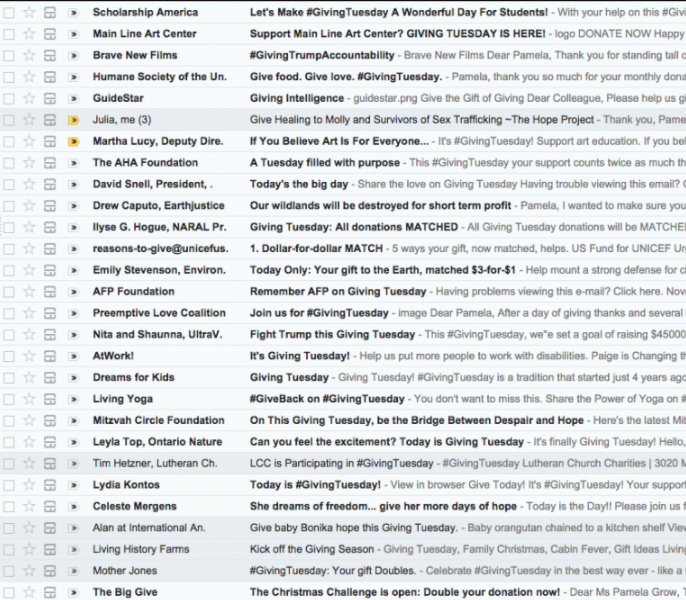 The time when nonprofits, many of whom I haven't heard from all year long, begin their relentless email assault.
But my mom said it to me. I said it to my kids. And you probably heard it from your mom. "If everyone jumped off a cliff would you?"
Listen, I don't mean to be the lone GivingTuesday curmudgeon. After all, it's a beautiful concept, one meant to combat the relentless consumerism of our culture. And I know that many of you have done quite well raising money on GivingTuesday. But I know lots more who have been disappointed in their GivingTuesday results. Especially when you think about the time and effort involved.
The time that would be better spent building your own "lifetime donor attraction systems."
So, before you jump into the fray, consider that GivingTuesday may not be for everyone. Before you make a decision to participate, make a plan.
First things first. What does your organization's donate page look like? Is it ridiculously easy for your donors to give online on all devices? Test it. Test it on desktop. Test it on mobile.
What do your donor thank-you processes look like? As nonprofits experience increasing success with digital fundraising, there's a tendency to abandon direct mail. Don't. You'll always have your greatest success with a multi-channel approach. So consider how you'll be thanking your GivingTuesday donors. If you missed it the first time around, here's a quick training.
Then what? Your nonprofit is unique, your donors are one-of-a-kind. Make #GivingTuesday uniquely yours. Here are just a few of the ways my readers and students made GivingTuesday special for their donors.
Annual Giving Coordinator, Nikki wrote:
"This giving Tuesday, instead of asking our donors for money we did a giving Tuesday thank-a-thon. We had people all across our 6 bases making phone calls to donors to thank them for their support and commitment to our cause. It was a great day and people really liked it."
Associate Director, Kathleen approached GivingTuesday with a novel take:
"We went a different route this year and decided to ask our supporters to take our first general supporter survey on Giving Tuesday. We framed it as "giving a minute (or less)" of your time to help us plan for 2019. So far, we have 110 responses and I plan to keep promoting it through December, both in our e-newsletter and as a P.S. in a few fundraising emails we'll send out. I'll also plug it on a FB a couple more times. It's been super fun to see everyone's responses roll in, especially in the one more open-ended question we included. Lots of good ideas in there. I think we're going to learn a lot from it.

Interestingly, we still had quite a few donations on Giving Tuesday despite not having any campaign focusing on fundraising. The one year we did try to promote Giving Tuesday more heavily among our supporters, we got complaints so, for us, it's not a big focus."
And Amy wrote in:
"Like you, I am not a fan of GivingTuesday – I feel like it takes valuable energy and time from the rest of the year-end giving season and gives donors a shot of fatigue right when the giving season begins..

But I decided to do it this year. I'm the AD for individual giving at an environmental nonprofit in Philly that has a Wildlife Clinic. The Clinic had to close earlier in the year due to a layoff, but we hired a new rehabber and just reopened in November, so I used GT as the day to publicly announce that and set up a fundraiser with a modest goal for something super specific: an oxygen concentrator (for wildlife suffering from shock). We boosted the post and to my surprise, we surpassed our goal. And it appears that most of our donors weren't already in our database.

We didn't raise 20K, but we were able to leverage the day to make an important announcement and raise money for something tangible. I can't help but envy places like Woodstock Sanctuary who do a whole live-streamed day, etc. But I also accept our small-shop limitations and have decided to count this as a success.

I'm glad that I didn't send any email. Not sure if I "broke the rules" but I wanted to stay super focused on Facebook and not clog anyone's inboxes, knowing our loyal donors would want to give via mail in December.

When I started my job at this nonprofit, no one knew what donor love was. You've really given me the tools to push that through our communications. Thank you!"
And, of course, there's my favorite and preferred way to optimize GivingTuesday. By showering your donors with gratitude. You can't go wrong.
The post How are you making #GivingTuesday uniquely YOU? appeared first on Pamela Grow.