When should you book your Christmas food delivery slot for the 2021 festive season?
Christmas food deliveries are set to be even more popular this year, so booking your perfect Christmas delivery slot ahead of time is crucial.
Take the hassle out of Christmas food shopping by opting for the convenience of getting a Christmas delivery slot – but as Christmas starts even earlier than last, one store has already sold out of its delivery slots.
And with England expected to see a winter spike in cases as the coronavirus pandemic looks set to continue for a second Christmas, it's hoped that lockdown won't be reintroduced.
As with a shortage of lorry drivers following Brexit – the effect on the supply chain has already caused KFC to run out of chicken, and McDonald's to run out of milkshake, it's inevitable that this year's festive delivery slots will be snapped up even quicker than last year.
Nestlé has already warned it fears Quality Street will struggle to be stocked on shop shelves in the run-up to Christmas and possible delays or shortages are prompting shoppers to stock up early.
Planning ahead is essential as December draws near. A number of supermarkets including Tesco have already released their festive delivery slots, whilst others won't release theirs until later on this month.
So if you already know where you're planning to shop, it's best to book earlier rather than later. 
Here we share all you need to know about booking your Christmas delivery slots at all major supermarkets in 2021…
Tesco
The popular retailer has increased the number of delivery slots to 1.5 million a week. This is double the amount that was available to customers at the start of the nationwide lockdown in March. 
Customers who are signed up for the Tesco Delivery Saver scheme will be able to book their Christmas delivery slot from 7am on 16th November 2021. For all those not signed up, 7am on 23rd November 2021 is when booking opens up for regular customers. 
Deliveries slots will be for up until and including Christmas Eve, 24th December.
And if you'd rather another way to shop, but you still want to avoid the Christmas rush, they have you covered. Their click and collect service is the perfect alternative choice and is available to book from the same dates above.
Asda
Asda hasn't yet opened up its Christmas delivery slots so you'll need to keep an eye out on the release dates to book yours. 
But if you're still searching for a delivery slot to suit you, hope is not lost. Customers can order online and choose the click and collect service for their chosen dates. Click and Collect is priced at £3 for orders under £25 and delivery is £3 for orders under £40.
Customers who already have an Asda Delivery Pass, delivery is between £3 and £5.50, dependent on day and time. 
Asda's Click and Collect slots also have not yet been released.
Sainsbury's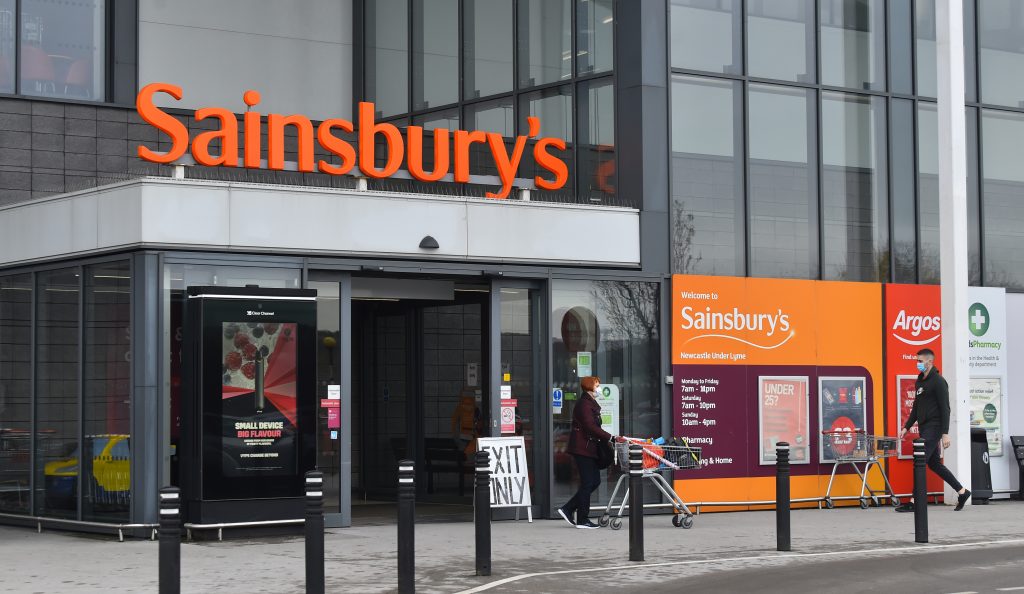 Sainsbury's Christmas orders will be delivered from 22-24th December but it is yet to open the booking slots.
However, it has now opened up its Click and Collect slots for customers to book now for collection dates 22-23 December.
Last year they expanded their contactless Click & Collect service to over 300 locations. So if you don't manage to book the Christmas delivery slot you want, this is another excellent option. 
Customers should be aware that Sainsbury's delivery service is closed between 24-26 December. So if you want to have all your groceries ready and save yourself some stress, it's best to book as early as possible. 
When Sainsbury's does open its delivery slots, it's expected that those with a Sainsbury's Delivery Pass, will get early access to slots.
They charge £7 for delivery orders under £40 and between 50p and £7 for orders worth more, depending on the time slot.
Delivery is free for orders over £100 booked between Monday and Thursday after 2pm.
Aldi
Aldi Christmas delivery slots are still TBC.
Last year customers were delighted that budget supermarket Aldi was trialling click and collect. 200 stores are expecting to offer this service by the time Christmas arrives.
But this year the store has got in early with its Christmas food preparations, selling its Turkey's in store now (on sale from 11th October).
Christmas shoppers can get ahead of the game and begin their festive prep with Aldi's succulent Large British Turkey Crown (£14.49, 2.4-2.8kg) or Small British Turkey Crown (£11.49, 1.5–1.9kg). Whilst those looking for bigger portions to feed the family, can also enjoy Aldi's Large Whole British Turkey (£17.49, 5.4-7.2g), or Small Whole British Turkey (£11.49, 2.8-4.0g). Both offer a tender British meat feast, and once cooked have a deliciously crispy skin and succulent juicy flavours.
Turkey's weren't on sale until 19th December last year, so it's a super early bird.
Morrisons 
Morrisons has not yet stated the dates its Christmas orders must be placed or when customers who chose to go for Click and Collect can pick up their items in-store.
We will update you with the information when we know more.
Waitrose
Upmarket supermarket Waitrose has already released their Christmas delivery slots for deliveries between 20-24th December. Customers can book these now.
It has also opened its Click and Collect service for its Entertaining Range / Food Made to Order, with booking slots open now for collections between 20-24th December.
They offer free delivery all week from 6am-10pm, depending on the branch customers order from. There is a £40 minimum spend for this and this minimum spend is the same for Click and Collect customers. 
Iceland
Iceland customers can also already book their Christmas delivery slot. Deliveries can be ordered for dates up to and including 24th December.
But be warned, its delivery slots are only open six days in advance of the delivery date.
And for those who spend more than £35, the delivery service is free of charge. 
And if you'd prefer to pick up your groceries in store, Iceland has not yet released details in-store Click and Collect festive service.
Ocado
Ocado's Christmas home delivery slots have already sold out. But don't panic, Ocado will let members know if more slots do become available.
Co-op
Co-op's Christmas booking slots are open five days in advance of delivery and slots bookable will be for home deliveries up to and including 24th December.
Lidl
Lidl does not offer a home delivery food service nor a Click and Collect service so customers will have to shop early or join the queues nearer the big day.
M&S
M&S has opened its festive Click and Collect booking slots for customers. Shoppers eager to get ahead of the rush can now book slots to be collected 22-23rd December.
The post When should you book your Christmas food delivery slot for the 2021 festive season? appeared first on GoodtoKnow.
Source : https://www.goodto.com/food/food-news/christmas-food-delivery-supermarket-slot-566948